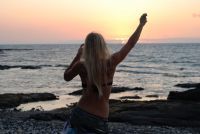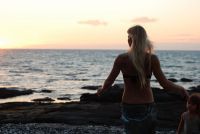 Aloha,
Thank you for taking the time to see who I am and what I am all about.
I have been healing by means of massage for about 18 years and am passionate about providing exceptional personalized massage to every client that comes to me for assistance in their health care. I believe that making bodywork a part of your lifestyle creates a healthier body and healthier mental health.
The day to day stress creates tight muscles, headaches, backaches, leg pains, numbness and sometimes can even become diabilitating rendering you unable to attend to the everyday tasks.
Recieving regularly scheduled massages has many benifits: ease of aches and pains, reduces amount and severity of headaches. Massage increases the function of internal organs, digestion, lymphatic flow, blood flow.
Massage is perfect for the active lifestyle too. Are you a runner, swimmer, cyclist? Love the aerobics classes? Finding your body is feeling fatigued? Get a massage. Give those tired muscles a chance to relax and be stretched and all of the lactic acids sqeezed from them and back into your waste system to be rid of resulting in a more pain free workout. This also allows you to reach your athletic goals faster if you are addressing the muscles that you are training. THEY WILL THANK YOU~
Since I am trained in Kinesiology, I have found massage to fit into the drills and workouts I train my dancing students with. Raqs Al Sharqi (Bellydance) is about creating and controlling isolated muscle groups. So by using and teaching Kinesiology to my students, they find it easier to make a mind/body connection. It also teaches my students the importance of taking care of their bodies by stretching, strengthening, and moving their bodies in the fullest range of motion that is possible. This creates increadible movements to music and allows all of the body functions to function better because there is movement throughout the entire body. Allowing the body to function as it was meant to function.
Vice versa with the bellydancing. I incorporate a lot of the isolated movements into my therapy for MVA victims. Classical Raqs Al Sharqi movements teach you to use the fullest range of motion possible. By using these dance movements it creates fun exercises for my clients to take home to continued self help therapy. I have found that by providing this kind of approach, my clients tend to do their home stretching and ROM exercises more consistantly that the traditional type of homework assignments.
Interested in any of my massage sessions or dance classes please contact me. I will return your call as soon as possible. Mahalo. A Hui Hou!